Stormwater Management Services in Albany, Latham, Glens Falls
C.T. Male Associates' Civil Engineering Division consists of dedicated professionals with expertise in a wide variety of engineering and grant writing and administration services. Providing cost-effective and innovative solutions to our clients' most pressing infrastructure problems has been the focus for over 100 years. C.T. Male Associates Civil Engineering Division can provide a wide range of stormwater engineering services.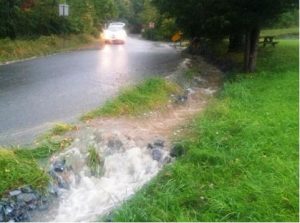 Whether you are looking for full-service attention or someone to handle just one portion of your stormwater project, C.T. Male Associates is here to help. Below is a sampling of the stormwater management services our knowledgeable engineering team can provide.
Stormwater System Investigation – Investigations include a watershed inventory, hydrologic and hydraulic computer modeling of the contributing watershed and concept development to address problem areas identified. Concept development includes cost estimating for evaluation of options identified.
Stormwater Design including updates and renovations

Construction observation services

Stormwater Management Plans – Plan includes formal boundary and topographic survey of the entire site, hydrologic and hydraulic computer modeling, system design, and cost estimating.
Storm Sewer Replacement
Stormwater Pollution Prevention Plans (SWPPPs) in accordance with the NY State SPDES General Permit for Construction Activities. The following items are included in each SWPPP:

Stormwater management plan including stormwater management practice design, calculations, site plans, detailing and report preparation.
Development of a site grading plan.
Development of drainage area maps.
Development of construction phasing plans.
Storm sewer sizing.
Preparation of an erosion and sediment control plan.
Preparation of an SWPPP including all necessary permit information, phasing sequences, specifications and certification

SWPPP Inspections for our clients in conformance with the SPDES permit and the prepared SWPPPs.
River/Stream Bank Restoration Design
Partner with the Stormwater Management Experts
C.T. Male Associates services Latham, Albany, Glens Falls, Syracuse, Red Hook, Johnstown, Poughkeepsie, and throughout New York State. If you are looking to partner with stormwater management experts, call 518-786-7400 to discuss your needs and get a project quote.