A Message to Our Clients and Community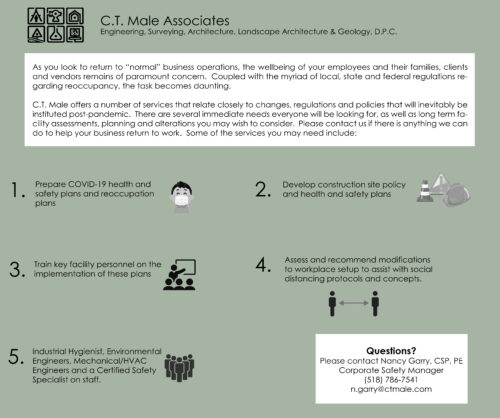 A Message to Our Clients and Community,
Like all of you, we are concerned about the presence of the novel coronavirus (COVID-19) in the United States and abroad, and its potential effect on families, employees, and community members. We are maintaining our business operations without interruption while at the same time making necessary changes to the way we conduct our work in order to protect the health and safety of our employees.
Please know that during this difficult time we are here for our clients. Our professional staff of engineers, surveyors, industrial hygienists and certified safety professionals can respond, in emergencies if necessary, to critical infrastructure work, incidents that require existing conditions documented, and assistance with public utilities and public works operations.
Our focus at this time is the health of our employees and providing safe, reliable services to our clients. If we can assist or support you in any way, or if you have questions, please contact us.