Coffee for a Cause – National Volunteer Week – Sasha's Run Along the Hudson
C.T. Male Associates employees came together this morning to host Coffee for a Cause. The firm donates the coffee and employees donate the breakfast items. For a minimum donation of $2, employees can receive a delicious breakfast while helping out a local charity.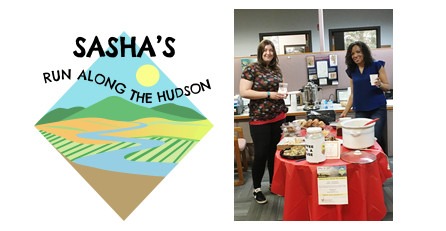 Today's cause is near and dear to our hearts! Our friend and coworker, Olya Prevo-White lost her 24 day old son, Sasha Hudson White, suddenly on Christmas Eve. Olya and her husband Chris have created Sasha's Run Along the Hudson as a way to honor the enormous light and joy that Sasha brought to their lives. This will be an annual event and each year the proceeds of the run will be donated to a different children's charity. This year, 100% of the proceeds will be donated to The Ronald McDonald House Charities of the Capital Region, NY.
C.T. Male Associates is proud that 30 of our employees and their families will join the approximately 300 participants in this year's walk which will be held tomorrow, April 29th at Tallmadge Park in Mechanicville, NY. It is not too late to participate – in-person registration Friday, April 28th, between 4:30 and 7pm at the Mechanicville Community Center (6 South Main St Mechanicville, NY). There will also be morning of the race registration at Tallmadge Park between 8:30 and 9:30am. Same day registration for a 5K is $30.00. Kids race registration is free.