High Definition 3D Laser Scanning – Putting Innovative Technology to Work for You
In the world of land surveying, there have been many advances in the use of innovative technologies within the last 15 years. One such technology is Global Positioning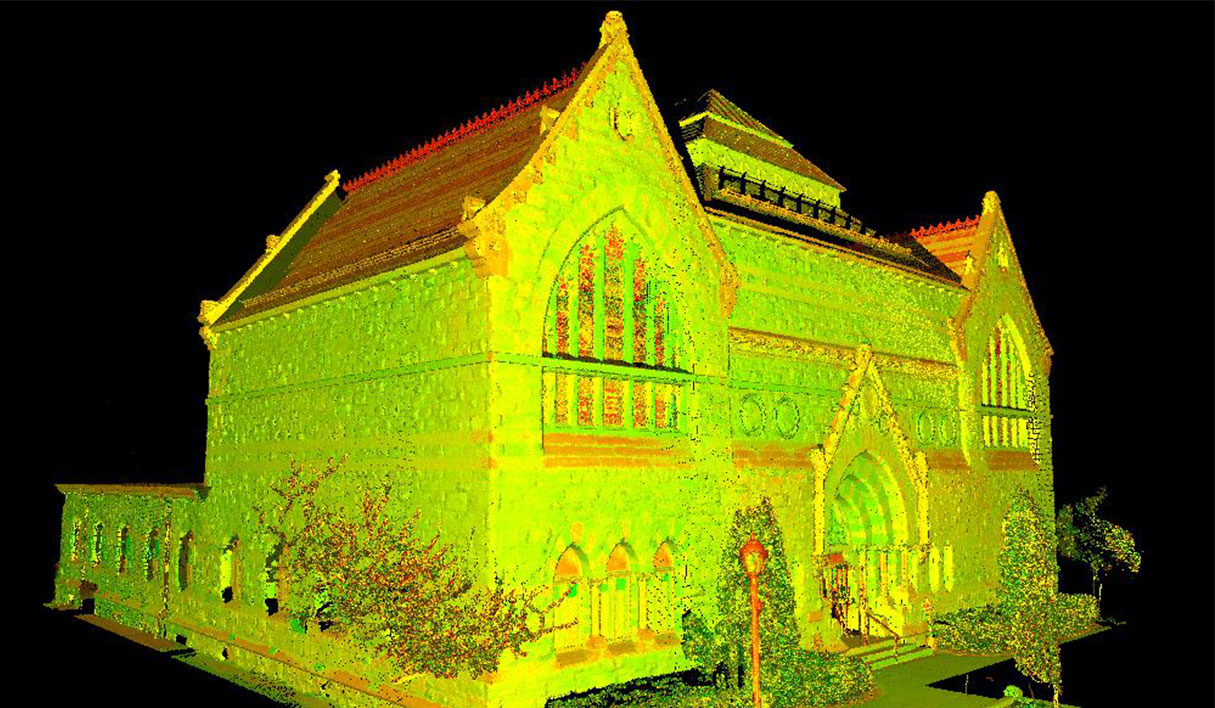 Systems or GPS. Those who invested in this technology early on found great improvements in accuracy and time savings in its use. Field surveying that could potentially have taken weeks, can now be done in several days through the use of GPS. Another technology that has revolutionized the survey profession is High Definition 3D Laser Scanning.
Whether you are looking for accurate as-built floor plans, restoration of a cathedral ceiling or the facade of a historic structure, high-def 3D laser scanning provides a precise and cost-effective solution. Through various surveying projects, the C.T. Male Associates land surveyors have found laser scanning to be superior to traditional methods of data capture for a number of reasons, which we've outlined below.
Versatility
Laser scans produce survey quality files called "point clouds," (a set of data points in a coordinate system) and these files can be used for fly-through videos, Building Information Modeling (BIM) and CAD drawings of almost any type of project. Some examples of these include, but are not limited to:
Asset Management, Facility Management and Operations and Maintenance – Point cloud data can be inserted into BIM models to determine all visible attributes of the exterior and interior of a building.
Quantity and Volume Computation Surveys – Survey of spoil piles from a remote location allows for safer and more detailed collection of data. Volumes of irregularly shaped structures can be computed from high detailed scans of areas with difficult access.
"Replacement in Kind" – Measure the geometry of a unique structure or component to ensure like replacement.
Forensic Surveying (Accident Site Surveying) – As modeling is done, various components of a structure can be rescanned and compared to each other. The preservation of evidence is critical and over time disappears or is altered. The laser scanner captures and preserves the data in a photographic and digital manner that is useful for forensic survey reconstruction/modeling.
Land Erosion Studies – Assess the magnitude of erosion areas by comparing two scans performed at different times.
Quality Assurance of Construction Projects – Scan the steel frame of a building at different phases of construction to check for trueness and tolerances.
Record Surveys and Topographic Surveys- Perform surveys of developed or undeveloped properties with greater detail for proposed design, financing documents (ALTA Surveys) or "as-built" conditions.
Bridge Surveys – Scan the deck and underside of a bridge to determine height clearances, dimensions of abutments and locations of visible steel beams.
Improved Accuracy:
A laser scan collects millions of x, y and z coordinates with survey grade accuracy that can be registered to create a single three-dimensional point cloud, which can be measured within millimeters.
Safety:
Laser scanners can be used to measure places that may have previously been impossible to access or would have involved putting people in dangerous situations to capture data with conventional equipment.
Speed:
Laser scanning allows for large amounts of data to be collected in a short period of time, enabling crews to capture more detailed data than ever before.
Cost Effective:
By implementing laser scanning on your project, you can increase the data available to make decisions and design. In addition, you can eliminate costly return visits to the site by "virtually" revisiting the site from your desktop many times over.
High Definition Laser Scanning & C.T. Male Associates
Laser scanning has proven to be a compelling way to capture data and the future of scanning is vast and will continue to evolve. As the use of scanning increases, C.T. Male Associates' land surveyors will continue to be on the cutting edge of this technology.
From industrial, manufacturing and energy sectors to architectural, construction or transportation all the way to historic preservation, hospitality, medical and retail spaces, C.T. Male Associates' Land Survey Division can provide laser scanning solutions for your project. We look forward to helping you measure and manage your data!
For more information about our High Definition 3D Laser Scanning services, please contact Carl Rigdon, P.L.S. at 518-786-7619 or [email protected].