Landscape Architecture Intern Olivia Perrins
Each summer C.T. Male Associates employs several interns across the different divisions within the company. This year our company had nine interns in our Civil, Environmental, Survey, Administrative Services, Land Services, and Marketing groups. Having been a former intern for C.T. Male Associates, Chief Executive Officer Dave Roecker feels very strongly about this program and the benefits that both the students and employees can gain from this experience.
Behind the Scenes: Landscape Architecture Internship at C.T. Male Associates
C.T. Male Associates' Business Development and Marketing intern Jenny Kelley, sat down with Landscape Architecture intern Olivia Perrins, to talk about her experience this summer with the company. Below is the paraphrased transcript.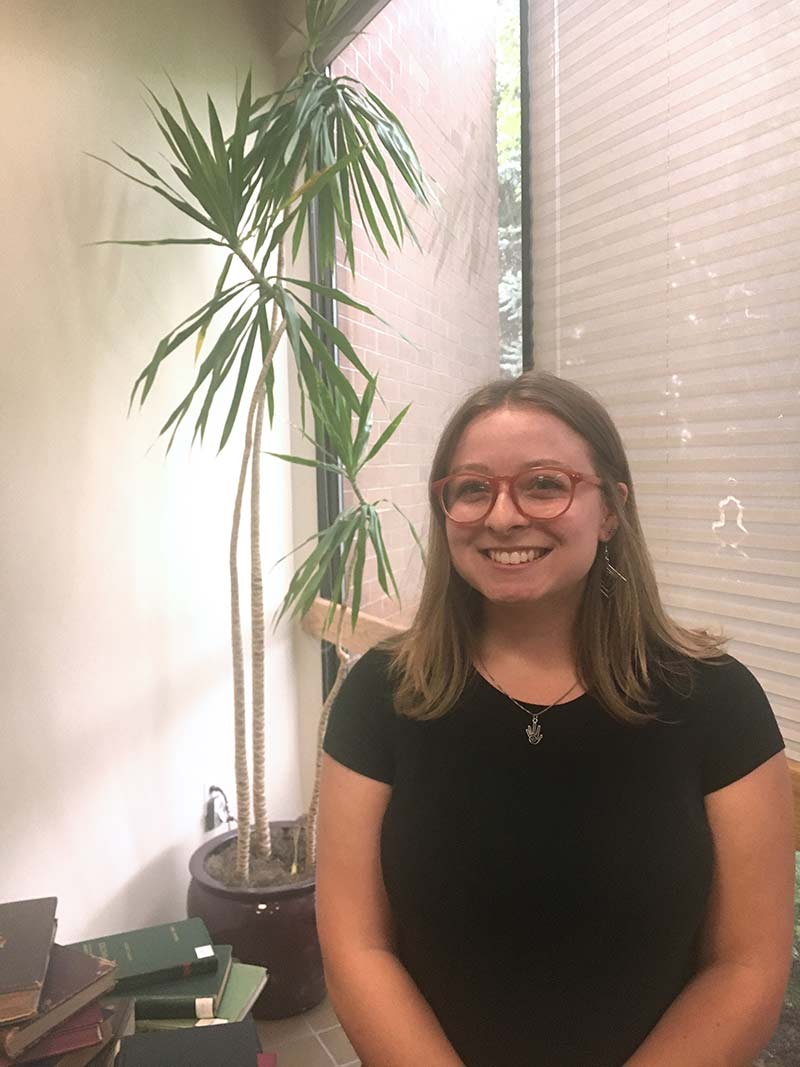 Jenny Kelley: Hi Olivia, thanks for sitting down with me on the last day of your internship. I was wondering if you could tell me about your journey here at C.T. Male Associates. How did you hear about this internship opportunity?
Olivia Perrins: I actually visited C.T. Male Associates after I was awarded a scholarship by the firm as a high school senior at Burnt Hills High School.
J.K.: Interesting! Why did you choose to apply for that scholarship?
O.P.: I knew I was interested in landscape architecture and the financial award is geared towards a high school senior who will be attending college in the fall after graduation and will be pursuing a career in Engineering, Land Surveying, Architecture, Landscape Architecture, or Automated Drafting. After being awarded the scholarship, I came in for a day and shadowed Senior Landscape Architect, Frank Palumbo to learn about day-to-day activities at C.T. Male Associates.
J.K.: Tell me about your summer internship as a Landscape Architect. What were some core components?
O.P.: When I first arrived, I had zero AutoCAD experience. I knew some of the basics of landscape planning, but my studies at SUNY ESF had only consisted of taking the introductory courses. However, I knew a lot about different plants from my biology class and during my internship, I became the go-to plant person. I would conduct research on which types of plants would be best for stormwater and would relay my analysis to the Landscape Architecture team. I designed rain gardens and drafted them using CAD, and coordinated my proposals with a nursery. I also was involved in the Parks Master Plan, where I conducted background research and drafted designs into CAD for the project.
J.K.: Wow it sounds like you had a very hands-on internship! What kinds of skills did you learn that you can now put on your resume?
O.P.: I learned how landscape architecture is utilized in stormwater planning and design. I acquired an understanding of what makes up landscape plans and the overall processes. I even became proficient in AutoCAD basics and drafting.
J.K.: What challenges did you face in your role?
O.P.: The biggest obstacle I encountered was learning about concepts I had never heard about before. Fortunately, I worked with people who took the time to teach and assist me.
J.K.: Did you form any mentorships while here?
O.P.: Yes, so many. My whole department was very helpful for the entire summer. I never felt that I couldn't ask for guidance and they were very understanding when I did not comprehend a concept.
J.K.: How would you have improved your internship?
O.P.: I would've attended more social events. C.T. Male Associates has so many different get-togethers, I wish I would've gone.
J.K.: Did you personally grow or do anything that was outside your comfort zone?
O.P.: I definitely became more confident in myself and my abilities. At first, I was afraid to reach out to the higher-ups of C.T. Male Associates, but I realized early on that they were very approachable. Both Ed Garrigan and Dave Roecker made sure my voice was heard and they were always eager to share their advice and knowledge.
J.K.: Would you recommend C.T. Male Associates' Internship Program to others?
O.P.: Definitely! It was a great opportunity and really helpful to know what it is like to work a full-time job. Everyone was calm under pressure and no one got mad at me if I made a mistake or missed a deadline. The company culture is really great too. C.T. Male Associates hosts really awesome events including a family picnic, barbeque lunches, an intern breakfast, and even the ice cream man comes for the afternoon!
J.K.: What will you miss most?
O.P.: The people! Everyone, from all divisions, was so friendly and really made the workplace environment a positive place to be.
J.K.: What is next for you? Did this internship solidify or help you better understand what you would like to do/study in the future?
O.P.: I learned a lot of things that will be applicable to my studies when I return back to school. It is nice that I have real-life experiences that I can draw from as I continue to take landscape architecture classes. This coming winter I will be returning to C.T. Male Associates to continue my internship while I am home for break.
J.K.: You had such a positive experience at C.T. Male Associates as an intern, do you have any tidbits of advice for others who are looking to apply for an internship here?
O.P.: "Everybody is approachable" and "confidence is key." As my confidence grew I was able to develop my skills further and achieve more. Frank even pointed out how I would end all of my sentences with "well I don't know." He told me to be confident in my thoughts and reassured me that I had valuable ideas.