C.T. Male Associates Participates in the 2017 Capital Region CANstruction Annual Exhibit & Competition
C.T. Male Associates' employees were once again honored to participate in the Capital Region CANstruction event at the New York State Museum in Albany.  CANstruction is an annual exhibit and design competition that connects talented architects, engineers, contractors, and students to imagine and create colossal structures built completely out of canned food items.  The structures are on display on the fourth floor of the Museum for two weeks, raising awareness of food insecurity in our region while highlighting the local talent of design firms. At the close of the exhibit, every can is donated to the Food Pantries for the Capital District to help feed families in the Capital Region.  This year's entry is our 4th in the competition, following our previous designs of Candissssss the Burmese Python (2012), James and the Giant Peach (2014), and our tribute to United States Veterans (2015).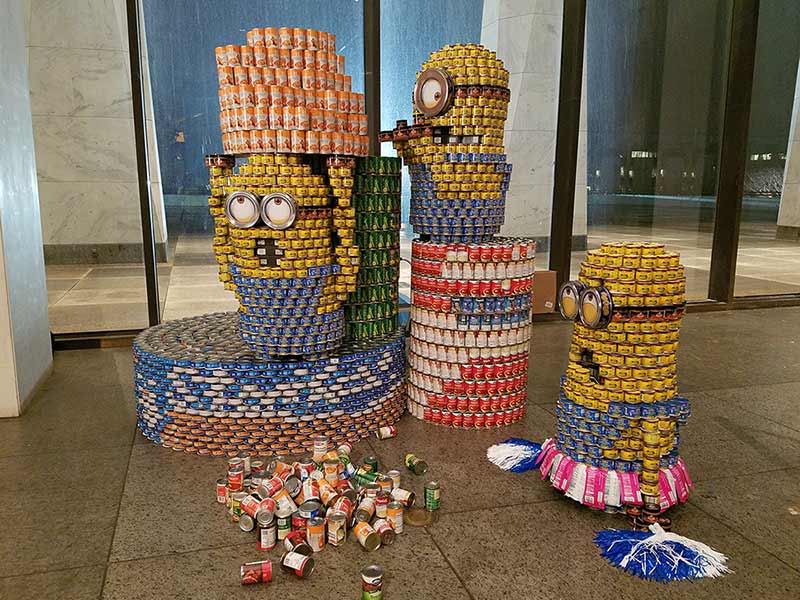 The 2017 CANstruction theme was "GO TEAM!"  The C.T. Male Associates creative team put forth an entry that included three Minions doing their best to help the cause in fighting hunger. The structure was constructed using over 4,900 canned goods, which will all be donated to the Food Pantries for the Capital District once the 2-week event concludes.  The C.T. Male Associates entry included 1,656 cans of green chiles, 1,632 cans of tuna, 432 cans of tomato soup, 336 can of sweet peas, 240 cans of mandarin oranges, 216 cans of cream of chicken soup, 120 cans of corn, 96 cans of grill mates rub, 96 cans of chicken, 48 cans of stewed tomatoes, 17 cans of blue soup, 24 cans of sauerkraut, 12 boxes of macaroni & cheese and 5 cookie tins.
The entire CANstruction team put forth a major effort and many thanks go out to Team Captains Nick Lobosco, R.A. and Lauren Sherman, P.E.; and the entire collection of Minons: Dan Achtyl, Alice Benamati, Sasha Carrington, Pete Carrolan, Patrick Daunt, John Ernst, Joe Farron, Shirley Gawlak, Jeff Marx, P.E., Crystal Riordan, Chris Secor, Kathryn Serra, P.E., Jim Thatcher, Ed Vopelak, P.E. and Brittany Winslow.
In addition to the volunteer efforts of the employees and various fundraising tasks completed over the past several months by C.T. Male Associates, our participation in the event was also made possible through our Corporate Sponsors.  In total, more than $5,000 was raised by C.T. Male Associates for this year's event!
Trinity Construction Inc.; Abscope Environmental, Inc.; Kubricky Construction Corp.; Eastern Heating and Cooling Inc.; J.H. Maloy Inc.; Hartgen Archaeological Associates Inc.; Curtis Lumber; Bishop Beaudry Construction; D/N Excavating, Inc.; Whiteman Osterman & Hanna; Koester Associates; DPS Advanced Technology Group; and Irving Consumer Products.
All CANstructures will be on display from March 8th – 22nd on the 4th floor of the New York State Museum.  The "People's Choice" award will be decided by the number of cans visitors to the museum place in the donation boxes at their favorite structure(s), so stop down and support the cause by bringing your votes in the form of canned goods!
Learn more about Capital Region CANstruction 2017 here!