C.T. Male Associates is very excited to again be participating in the Capital Region CANstruction Competition!
The 2014 theme for Capital Region CANstruction is "Story Town!" CANstruction is a unique charity which hosts competitions, exhibitions and events showcasing colossal structures made entirely out of full cans of food. After the structures are built, the creations go on display to the public as a giant art exhibition. At the end of the event, all food is donated to local hunger relief organizations (The Food Pantries for the Capital District). The events have helped raise over 21 million pounds of food since 1992, and CANstruction events are held annually in over 150 cities around the world including North America, Australia, South America, Europe and Asia.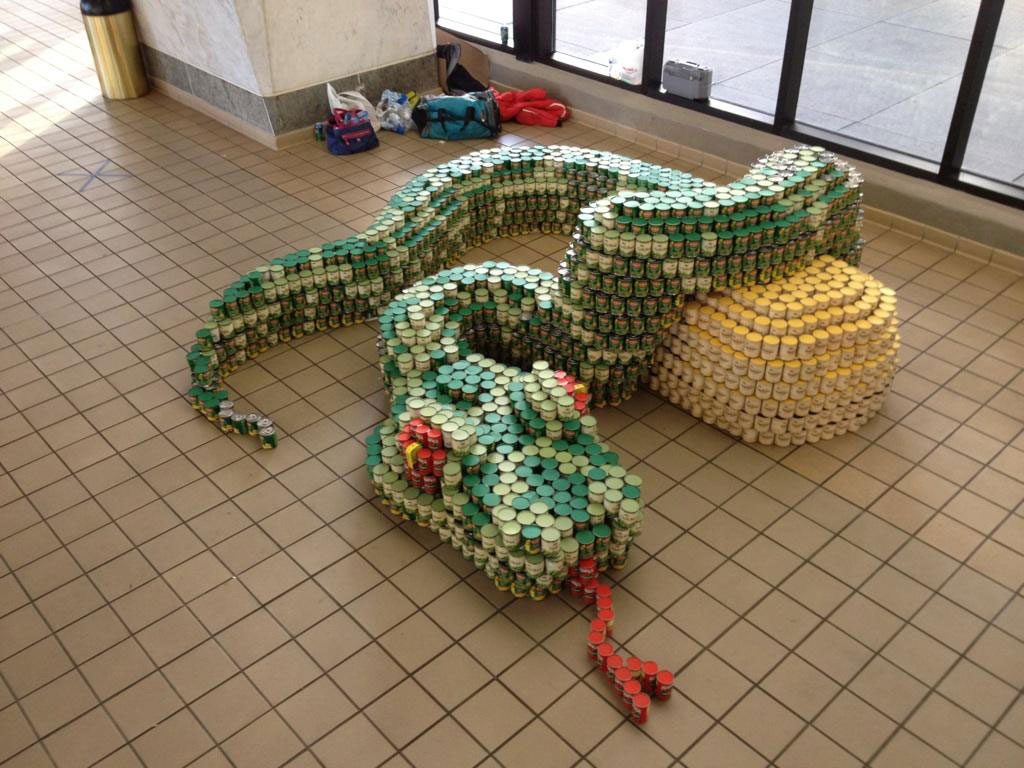 Here in the Capital Region, it brings together teams of local professionals in the Architecture/Engineering/Construction industry, challenging them to imagine and bring to life structures made completely of canned food goods – "canstructures". After being on display in the New York State Museum, these well-balanced works of art will feed much more than the imagination, as each can will be donated to the Food Pantries for the Capital District. On the local level the goal on an annual basis is 50,000 cans and $50,000 raised as a result of the competition.
This will be C.T. Male Associates second participation in the event, following our 2012 construction of 'Candissssss' the Burmese Python as part of the "Zoo Can Do It" themed competition. Candissssss included 3,084 cans and had the participation of 18 employees and nine corporate sponsors/partners, which combined raised $3,920.20 for the competition!
In order to raise the funds necessary to enter the competition (±$4,000.00), the C.T. Male Associates CANstruction Committee will once again be conducting many fundraising activities within and external to our office. Our in-house efforts include:
A baking contest was held in mid-November for our employees;
A November pie sale in conjunction with The Saratoga Cheesecake Company, through which we received a $4.00 donation from each pie that C.T. Male Associates employees ordered;
In the coming months we will hold multiple "Coffee for a Cause" breakfast fundraisers;
A Facebook company match, where C.T. Male Associates will donate $1 for each new like the C.T. Male Associates Facebook page receives, up to $250, for an announced time frame;
Leading up to the holiday season, we will hold various fundraising raffles for our employees and visitors; and
In the coming months we will sponsor an opportunities for employees to "pay to dress casual"
Other fun activities fundraising ideas will take place during this time! Please keep checking our website and C.T. Male Associates Facebook page for more details.
Our external efforts will include seeking sponsorship partners through our clients, with the contributions of our partners prominently displayed with our CANstruction entry at the State Museum which will be seen by thousands of visitors during the exhibit display in April 2014. In addition, you can help by donating to our team through our FirstGiving team page! Stay tuned for more exciting news on our participation in this year's CANstruction!