C.T. Male Associates Assists In Re-Opening For the Cohoes Music Hall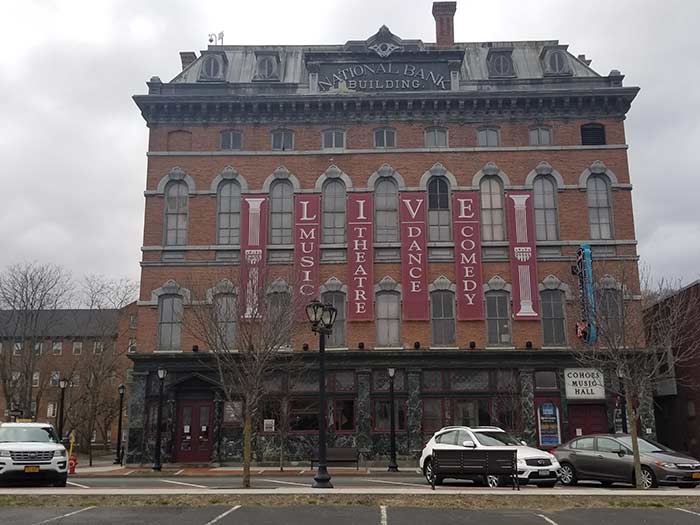 C.T. Male Associates' principal architect, Rich Campagnola, R.A., assisted the City of Cohoes to prepare the Cohoes Music Hall for its recent re-opening by providing code compliance facility support services to the City Engineer. This included inspection and upgrades to the existing elevator, plumbing and mechanical systems, as well as a review of life safety system and maintenance of fire-resistant construction within the building, which opened in 1874. The Cohoes Music Hall is a four-story brick building in the Second Empire architectural style, with 385 seats and an old-fashioned theater ambiance. Through a careful evaluation of the existing conditions, CT. Male Associates was able to assist the City in deferring the cost of replacement of the elevator by developing a long term property maintenance plan, that included required tests and inspections, and repairs necessary to maintain compliance.
The Palace Theatre in Albany has taken over management of the old Cohoes Music Hall, located at 58 Remsen Street in Cohoes, under an agreement with the city that within a few years is projected to bring audiences of 40,000 or more annually to the historic downtown venue. The three-year deal, calls for Palace management to supervise operations and programming at the city-owned music hall. Saturday, September 24th and Sunday, September 25th, were the opening events at the Cohoes Music Hall, which included a FREE showing of The Sandlot on the big screen, presentations on the history of the Music Hall, along with an exhibit on the history of the Hall and notable performers who have appeared there. Other highlights at the music hall will include film screenings, children's events and programs by the Palace's partners at Park Playhouse and the Albany Symphony Orchestra.
C.T. Male Associates understands the significance of the Cohoes Music Hall and the role it plays in the revitalization of the downtown area. The arts are a critical part of any community, and we are honored to be able support this important effort by ensuring the Health, Safety and Resilience of the Built Environment for all who use this grand venue.