Drone Surveying: C.T. Male Associates Conducts Topographic and Utility Surveys with Unmanned Aerial Vehicle (UAV)
C.T. Male Associates conducted topographic and utility surveys of road and parking areas surrounding buildings 54 and 77 at the Binghamton Psychiatric Facility. The purpose of this work was to determine which areas of the existing parking lot need to be milled and filled and to determine where the parking lot could be expanded. The survey included topography, spot elevations and information on visible utilities.
The survey work was completed using traditional survey methods supplemented with Unmanned Aerial Vehicle (UAV) photo and video data. C.T. Male Associates used our DJI Phantom Model 4 Pro UAV to fly the area and capture photo and video for portions of the site. The deliverable for this flight included a composite digital orthorectified photograph and fly through video file. Still photography was flow at 50-60 feet above mean terrain and the photographs were assembled into an ortho photomosaic using Agisoft Photoscan software. Video data was captured in 4k video from 15-20 feet above mean terrain.
UAV Drone surveys allow us to provide greater versatility for our Surveying & Mapping Services and gives us an additional way to collect highly accurate data for preparing reports, analyses and mapping. Our drone surveying services also allow us to improve speed, efficiency, and safety of assessments while enhancing customer experience.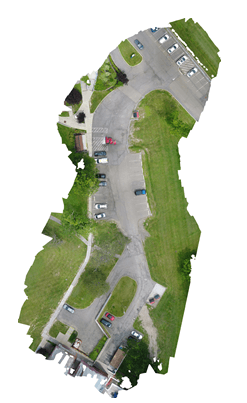 UAV Surveying Services
UAV Surveying services that C.T. Male Associates offers include but are not limited to:
Topographic Mapping & Photogrammetry
Route Surveys
Quarries & Mining Operations – volume computations
Canal inspections
Environmental, industrial & utility inspections
Accident scene documentation/reconstruction
Ice/open water monitoring
Wildlife Monitoring
Pollution Monitoring
Surveying and mapping in dangerous environments including hazardous waste sites
Agricultural crop monitoring and inspection
Contact us for More Information on our UAV Drone Surveying Services
For additional information on our UAV drone surveying services, please fill out the contact form below. We will get back to you shortly!
Property Survey Quote Request
Learn more about our UAV Land Surveying Services and DJI Phantom 4 Pro.